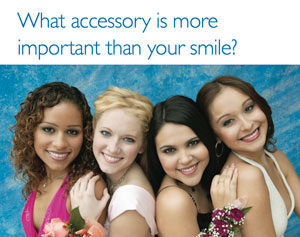 Prom season is right around the corner! Did you know that skin cancer rates are raising among young people? According to The Skin Cancer Foundation, each year approximately 5.4 million skin cancer cases are diagnosed in the United States. Those who have tanned using indoor tanning beds have a much higher risk of developing a variety of skin cancers. We are urging teens and parents to skip the tanning bed ahead of your big day and focus on teeth whitening instead. 
For those looking to achieve a camera ready smile, Dr. Irwin and her team offer QuickPro by Zoom!, industry leaders of in office whitening solutions. Suitable for teenagers, the QuickPro system is a safer and quicker alternative to tradtional dental whitening systems. Patients can achieve a brighter smile in as little as 30 minutes via a varnish applied in office. Those looking for more dramatic results are also welcomed to inquire about our traditional Zoom! teeth whitening service.
As always Dr. Irwin and her supportive staff are here to answer any questions you may have. To schedule an appointment, please call 973-667-1567.