Dr. Sylvia L. Irwin DMD, PhD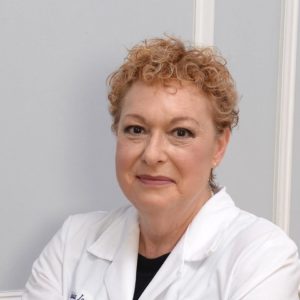 Dr. Irwin received her BA from Douglass College where she was a Phi Beta Kappa honors graduate. In 1980 she graduated from Fairleigh Dickinson University Dental School and then went on to complete a General Practice Residency at the University Hospital of UMDNJ. Dr. Irwin came to Nutley in the fall of 1981, taking over an existing dental practice on High Street. In 1996 our practice moved to its current location on the corner of Washington and Grant Avenues. The move has made our office more easily accessible and has allowed us to expand and to provide ample parking for our patients.
In dentistry, education does not end when you finish school. Dentistry is an ever-evolving field and you may feel confident in knowing that Dr. Irwin is committed to continuing dental education as a means of staying abreast of new techniques, procedures, and advances in dentistry. In order to provide the highest quality and state of the art care she has continued her training through participation in numerous continuing education courses. A member of several dental groups, Dr. Irwin also surveys the latest new or proposed dental products and reports on their effectiveness.
Dr. Irwin received a Certificate of Completion for her participation in the Golden Study Group's six month Implant Prosthetics Course, and is a member of the American Dental Association, the New Jersey State Dental Association, and the Essex County Dental Association. She also mentors dental assisting students from nearby schools, providing externship supervision and training.
Dr. Irwin also believes the best way to promote oral wellness is through raising awareness via education. On a regular basis, Dr. Irwin volunteers to speak with school children on the importance of developing healthy dental habits and raising awareness through educating the area community. In addition, As part of her efforts to educate the public and her colleagues, Dr. Irwin's article "Articaine and Paresthesia" was published in the trade publication "Dental Learning," and can be accessed by clicking here.
For over ten years Dr. Irwin and her staff have donated their time and expertise to Donated Dental Services (DDS) program; designed to assist the elderly and disabled with necessary care. DDS is an outreach of the Dental Lifeline Network, to learn more click here.
On a more personal note Dr. Irwin is happily married to a USCG licensed fishing boat captain, and has one son who works in theater management. In her spare time Dr. Irwin also became a USCG licensed captain and recently completed a PhD in German with a concentration in the Medieval Period at Rutgers University. She is using her skills by volunteering at the Leo Baeck Institute of German Jewish History in New York.
About Brighter Smiles Dental
Brighter Smiles Dental is the practice of Dr. Sylvia Irwin. Since 1981, Dr. Irwin and her staff have been providing patients with expert dental care in a calm and relaxing setting. For more information or to schedule an appointment please click here or call our Nutley, New Jersey dental office at: 973.667.1567.