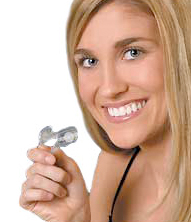 Bruxism, the medical term for teeth grinding, can often be helped by wearing a mouth guard while sleeping.  Dr. Irwin helps patients who suffer from bruxism by creating custom-fit mouth guards that can help stop teeth grinding.
Advantages of Custom-Fit Mouth Guards and Bite Guards:
Prevents further damage to your teeth
May reduce or eliminate headaches or jaw pain caused by bruxism.
Help keep teeth in line, preventing any movement of the teeth caused by grinding.
About Brighter Smiles Dental
Brighter Smiles Dental is the practice of Dr. Sylvia Irwin. For over 30 years, Dr. Irwin and her staff have been providing patients with expert dental care in a calm and relaxing setting. For more information or to schedule an appointment please click here or call our Nutley, New Jersey dental office at: 973.667.1567.